D2J BLOG THREAD SERIES:
Judge Emmet Sullivan Wears No Clothes
by Lisa Siegel Belanger, J.D.
Posted June 10, 2020
ACT 2
They say: Timing Is Everything
Let's review again the federal statute 50 U.S.C. Sec. 1803(2) that sets forth the explicitly stated purpose of a court appointing an "amicus curiae:
(A) shall appoint an individual who has been designated under paragraph (1) to serve as amicus curiae to assist such court in the consideration of any application for an order or review that, in the opinion of the court, presents a novel or significant interpretation of the law, unless the court issues a finding that such appointment is not appropriate.
Key words set forth in 50 U.S.C. Sec. 1803(2) as to the role of a court-appointed amicus curiae:
"TO ASSIST SUCH COURT IN THE CONSIDERATION OF A NOVEL OR SIGNIFICANT INTERPRETATION OF THE LAW"
Let's break this down even further . . .
"TO ASSIST SUCH COURT"
Where it is long-established that court rules are mandated to comport with the guaranteed cornerstone due process requirements of "fair and impartial" trier of fact under the 5th & 14th Amendments of the U.S. Constitution, it would be outright obscene for anyone to even suggest that the language—"to assist the court"—in any stretch of the imagination means that it is kosher for the court appointment to already have a PREDETERMINED JUDGMENT.
"IN THE CONSIDERATION OF"
Well-established, Judge Sullivan appointed Ret. Judge John Gleeson on May 13, 2020 to act as "amicus curiae" —meaning the "amicus curiae" would AFTER such appointment "assist" in making a thorough & good faith examination of facts & law.
Again, a PREDETERMINED JUDGMENT contravenes any true meaning of: "in the consideration of".
"A NOVEL OR SIGNIFICANT INTERPRETATION OF THE LAW"
Below, again, is Judge Sullivan's court-order appointing Ret. Judge John Gleeson as "amicus curiae":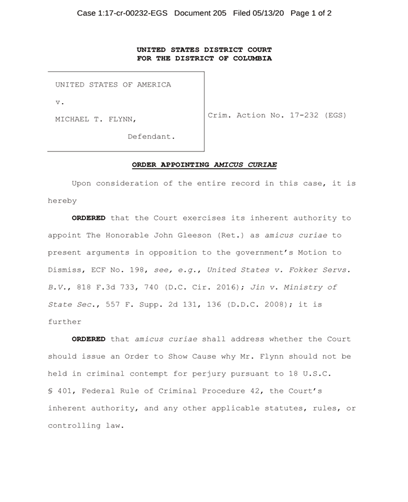 Above the exact wording of Judge Sullivan's May 13, 2020 Order shows that the only "NOVEL" issue is Judge Sullivan—Chair of the D.C. Judicial Nomination Commission" (https://jnc.dc.gov/page/jnc-members…) trying to desecrate the U.S. Constitution with explicit intent by seeking:
•for a judge to usurp the role of a prosecutor; and
•to use a court-appointed "amicus curiae" to be the specific tool to carry out blatant lawless retaliation.
I submit, in my professional opinion having 24 years in the court swamp as an appellate practitioner, there is absolutely nothing novel about a defendant seeking to withdraw a "guilty plea" based on having been lawlessly procured as a result of government extortion.
Here's a contest—caption this:
Judge Sullivan & his counsel state on page 32 of Judge Sullivan's filed response to the D.C. Court of Appeals that:
"Judge Sullivan will not blindly accept Judge Gleeson's recommendations."
Folks, you can't make this sh*t up!!
Did counsel forget to go back and proofread the filed response submitted to the D.C. Court of Appeals?? I read the filed response (WITH my glasses on) and there isn't one page absent of blaring statements showing Judge Sullivan has ALREADY DETERMINED A FINDING OF GUILT.
Judge Sullivan & his counsel are correct about one thing. . .Judge Sullivan isn't blindly doing anything—he's doing it with HIS EYES WIDE OPEN.
I want to know WHY "everybody" has been so quiet like church mice about the fact that Ret. Judge John Gleeson wrote an OP-ED in the WASHINGTON POST ON MAY 11, 2020 (2 days prior to Judge Sullivan's May 13, 2020 Order Appointing Mr. OP-ED himself).
https://www.washingtonpost.com/opinions/2020/05/11/flynn-case-isnt-over-until-judge-says-its-over
Saying it all is the title alone of the May 11, 2020 OP-ED by Ret. Judge John Gleeson in the Washington Post: "The Flynn case isn't over until the Judge says it's over".
It only took 2 days for Judge Sullivan to appoint Ret. John Gleeson???
"Little known fact": both Judge Sullivan (https://jnc.dc.gov/biography/honorable-emmet-g-sullivan ) & Ret. Judge Gleeson of Debevoise & Plimpton (https://debevoise.com/johngleeson?tab=Biography ) have held longtime high official positions with the Judicial Conference Committee.
Here are some highlights from Ret. Judge Gleeson's
May 11, 2020 OP-ED in the Washington Post:
• Off the bat Ret. Judge Gleeson describes himself as having "served as a U.S. district judge for the Eastern District of New York and chief of the Criminal Division."
Direct quote 1 from Op-Ed
The Justice Department's move to dismiss the prosecution of former national security adviser Michael Flynn does not need to be the end of the case — and it shouldn't be.
Direct quote 2 from Op-Ed
Prosecutors deserve a "presumption of regularity" — the benefit of the doubt that they are acting honestly and following the rules. But when the facts suggest they have abused their power, that presumption fades If prosecutors attempt to dismiss a well-founded prosecution for impermissible or corrupt reasons, the people would be ill-served if a court blindly approved their dismissal request.
Direct quote 3 from Op-Ed
[ ] it also protects the judiciary itself from becoming a party to corruption.
Direct quote 4 from Op-Ed
Fortunately, the court has many tools to vindicate the public interest. It can require the career prosecutor to explain why he stepped off the case, as another federal judge recently did when the Trump administration attempted to replace.  It can appoint an independent attorney to act as a "friend of the court," ensuring a full, adversarial inquiry, as the judge in the Flynn case has done in other situations where the department abdicated its prosecutorial role.
Direct quote 5 from Op-Ed
Flynn's guilt has already been adjudicated. So if the court finds dismissal would result in a miscarriage of justice, it can deny the motion, refuse to permit withdrawal of the guilty plea and proceed to sentencing.
Forgive me folks for repeating myself: YOU CANNOT MAKE THIS SH*T UP!!
From Judge Sullivan's Response Brief:
The question before the Court is whether it should deploy "one of the most potent weapons in the judicial arsenal," Cheney v. U.S. Dist. Court, 542 U.S. 367, 380 (2004), to prevent the district court from considering a pending motion.
Talk about smoke bombs. . .Here's THE REAL bottom-line issue:
Per Judge Sullivan's OWN words in his MAY 13, 2020 Order he wants to use the "amicus curiae" not to advise him but rather to SUBSTITUTE AS THE PROSECUTOR!!!